A Roaring Twenties Paranormal Mystery
"A briskly entertaining novel with a colorful setting and the right mix of humor and paranormal romance" –Kirkus Reviews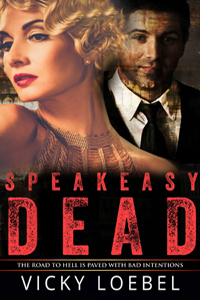 Speakeasy manager Clara Woodsen will do anything to save her silent film idol from an untimely death. Even summon a demon. Even bet she can teach his half-human/half-cheetah assistant to foxtrot. But people around town are acting strange. Have Clara's efforts unleashed a zombie plague? Or are her customers just really bad at dancing the Charleston? And can a career-minded woman find happiness with the man of her dreams if she uses her…brains?
All Bernard Benjamin wants is a quiet life. At least as quiet as possible for a college man possessing a golem housekeeper, five demon-summoning witches for cousins, and a dance partner who has not only two left feet but two right feet as well. Bernie is used to being his cousin Clara's stooge,but when the chips are down, he knows they'll back each other one hundred percent.  So why has Clara tied him up in a pentagram? And what's she doing with that sharp, pointy knife? (200 pages, rated PG-13.)
Available from: Amazon | Apple | Barnes & Noble | Kobo | More Choices
Audiobook read by award winning narrators Nick Podehl and Emily Beresford on Amazon, iTunes and Audible as well as most libraries and other audiobook retailers.
Pinterest Boards
I have a LOT of pinterest boards on the 1920s. Seriously a lot. But there are specific inspiration photos from Speakeasy Dead and "if-only" casting ideas HERE.
.