The Road to Hell is Paved with Bad Intentions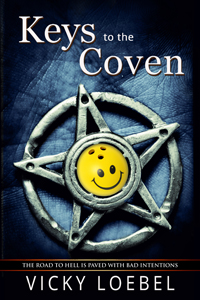 She's a witch who doesn't believe in magic. He's a demon who doesn't believe in purchasing souls. Welcome to Keys to the Coven, a sizzling urban fantasy where karma is power, sex is karma, and it isn't who you know but whose soul you own that matters.
To become a demon, you must die in complete and utter despair. Three hundred years ago, Max passed that test with flying colors and joined the afterlife resolving never again to have innocent blood on his hands. Now Max has been given the job of breaking a young witch's family curse. But what she doesn't know, what Max can't bring himself to tell her, is that completing his mission almost certainly means her death.
When Felicity Woodsen inherits her mother's coven, she learns each firstborn Woodsen daughter must become the consort of an evil-arch demon. Felicity's only hope is to ally with the mysteriously charming Max. But is saving her body from one demon worth risking her soul with another?
Roxashael became a demon when his Roman captors sent his family, one by one to be devoured by lions. The lesson was clear: power is good; lots of power is better. Two-thousand years later, Rocky has power. He's purchased hundreds of souls, and he's created the Minsk Homunculus, a magic artifact that, by binding a human witch as his consort, turns him into an arch-demon and places him above the goody-two-shoes laws of karma. Unfortunately, Rocky made a mistake. He fell in love with Felicity's mother and in a moment of weakness promised to give up his demon-consort charm. Now Felicity's mother is dead, the Minsk Homunculus is slated for destruction, and Rocky's power as an arch-demon is about to end. No demon can break a promise. If Rocky refuses to give up the Minsk Homunculus, he'll become the lowest, most abject slave in Hell.
But then, why break promises when they're so easy to corrupt?
(375 pages, Rated R*)
"The entertaining start of an epic supernatural series." – Kirkus Reviews
---
Available in ebook and paperback from Amazon, or get the the audiobook read by award winning narrators Nick Podehl and Emily Beresford, from Audible, or Findaway Voices, as well most libraries and audiobook retailers.
Pinterest Boards
Want to see some of my inspirational photos for Keys to the Coven? Wonder who I'd like to see cast as Max? Check out my pinterest boards.